The MFCA and Tudor Games are excited to announce the 2017 Electric Football™ World Championships and Convention (EFWC)! Texas is BIG and the annual Electric Football convention will be the BIGGEST one ever! There will be games for all levels of play from youth to master, including the MFCA Tournament of Champions Qualifier and Finals! Tudor Games will have their store up and running for all your product needs! There will be the usual gang of tweakers, painters and collectors roaming the hotel.
The 2017 EFWC and Convention will be held at the The Westin Dallas Fort Worth Airport, July 28-30!
The Westin is located at the airport and includes free shuttle service, swimming pool, hot tub, fitness center and wireless internet.
WHAT
: 2017 Electric Football™ World Championships and Convention
WHO:
All interested Electric Football coaches and fans
WHEN:
July 28-30 5:00 pm Friday – 3:00 pm Sunday
WHERE:
The Westin Dallas Fort Worth
4545 W. John Carpenter Freeway, Irving, TX, 75063
PRICE:
$99 a night, $139 for suites
Hotel Reservations: 888-627-8617 No code needed. Ask for the "Electric Football Convention" rates.
Website: http://www.westindallasfortworthairport.com/
Your Dynasty Starts Here!
When you register for the Electric Football World Championship and Convention, you will take your team from Draft Day through Training Camp, the rigors of a regular season, fight through the playoffs, and if you're good, on to the championship! All in the span of 48 hours. Are you ready for the greatest football challenge ever?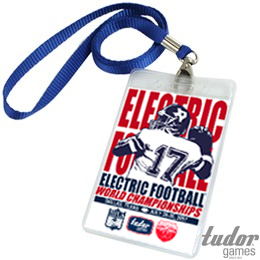 EFWCC Registration To signup go here: SIGN ME UP!
Fans and Attendees: $20.00
This one-time fee gives you entry and access to watch all tournaments and participate in other events. Includes buffet lunch on Saturday. You won't be registered to play in a tournament, but there's still things to do and many people to meet! Interested in being a volunteer?
Contact Us
, and we'll put you to work and waive your registration fee! If you're only coming for the day, pay onsite. $15.00 per day, Saturday lunch is not included.
Youth EF Olympics Event: Free
For children under 12, this event gives kids a chance to get "hands on" with the basics of Electric Football, from passing and kicking with the TTQB, to strength and speed drills, to running simple plays. Always a highlight of the Convention!
Electric Football OPEN: $30.00
Got what it takes to coach your team to glory?
Learn to tweak your bases, then give half away, get half back! For all skill levels, novice to expert. We level the playing field in this unique event! You'll learn inside tips from the experts and take home a team with tweaked bases and accessories to jump start your neighborhood or solitaire league. Purchase of this item admits one person to the Convention, enters you in the OPEN Tournament, and allows you to claim your team and associated items in person at the Draft Event on Friday night. You choose one of 64 NFL Teams. You get its matching NFL Deluxe Uniform Numbers, twenty-four special 2017 Convention Bases, six Saturn Felt Footballs, and two Triple Threat Quarterbacks, all supplied (onsite pickup only) by Tudor Games. That's a $33.40 retail value, and it includes your participation in the tournaments, admission all weekend to the Convention, a buffet lunch on Saturday, and your Convention badge. NOTE: Order your Team Entry ASAP while entries last. One Coach, One Team. Get your first choice now! Once again, you MUST be present in Dallas to pick up these items in person and play.
Go to our registration page to claim your team today. http://www.tudorgames.com/news/convention-2017.html/
How it Works:
Up to 64 coaches can sign up for this tournament by selecting one of the remaining Tudor OPEN Tournament Entries. ONLY one dark jersey and one white jersey NFL team will be available as an entry in the tournament, so confirm your favorite NOW while it's still available! If a Tournament Entry shows "Out of stock" then another coach has claimed that team for the OPEN Tournament, and you must pick your next favorite.
The Draft Event:
On Friday night at 7:30pm the Draft Event will be held. Each Coach and team previously purchased will be announced in draft order amid much fanfare! The Coach "on the clock" will come to the podium and collect their team and items. Items will be pre-packed in a container with all accessories. Draft order will reflect the draft order used in the 2017 NFL Draft.
Training Camp:
All Coaches participating in the OPEN will go through Training Camp on Saturday morning. Each coach has 30 minutes to tweak their 2017 Convention Bases. Xuron Tweaking Tools and a heat source will be provided, no outside tools or other equipment will be permitted. Coaches may not exit the ballroom with any of the items. If a coach needs assistance, help will be granted, and he/she will be given an hour to complete his team setup. Additional Training Camp times will be available on Saturday morning. Once a coach's time is up they surrender their tweaked bases and all items to a moderator, who will then choose half of their tweaked Rookie Bases and half of their tweaked TTC Bases at random. One half will stay with the Coach's items. The other half of the tweaked bases will be distributed at random into the Coach containers by a tournament official prior to the start of the OPEN tournament.
Electric Football OPEN Game Format:
Each coach has 20 minutes to run 4 plays from the opponent's 25 yard line and return to the 25 upon scoring. There is an option for a 2-point conversion, and a field goal can be attempted on a coach's 4th play. Extra Points are automatic, and interceptions are not counted. No field goals or punts may be attempted. In the event of a game where neither team scores a touchdown, the team with the most yards will be awarded a 3-0 victory for the game.
Notes: You must pick up these items AT THE CONVENTION in person, please note that these items WILL NOT BE SHIPPED to you. You are purchasing a ticket entry into the Tudor Electric Football OPEN Tournament to be held in Dallas, Texas which qualifies you to receive these product items, plus the full Convention admission badge mentioned above. You may sign up for multiple tournaments.
All proceeds from the sale of this Tournament Entry go to the MFCA (Miniature Football Coaches Association) to help fund future Electric Football Convention events. If you do not attend the Convention in Dallas, these items will be either returned to stock or donated and any proceeds will be given to the MFCA.
We cannot give the items associated with this Entry to another person on your behalf. The intent of this Entry bundle is to give Coaches a chance to compete on a level playing field with no tampering. To ensure fair play, these special Bases will not be publicly available prior to the Convention and Coaches may not leave the Ballroom area with their items until they are knocked out of the tournament or they win it all!
Download the OPEN Tournament Rules here:
OPEN Tournament Rules
Electric Football League Invitational: $30.00
Do you play in a neighborhood, city, or solitaire league? This is an intermediate ("Veteran") skills tournament for anyone age 16 and over who want to see how their weighted 4.0 gram team stacks up against similar competition from all over the world. Registrants in this event may also play in the Electric Football OPEN, but only on a space-available basis. Participants in this event are given a lanyard and name tag for identification. Includes lunch on Saturday. Find out if you're a pretender or a contender!
Download the League Invitational Rules here:
League Invitational Rules
Tournament of Champions (TOC) Event: $30.00
("Expert") For the grizzled veterans of Electric Football, this fast-paced tournament offers the ultimate Electric Football challenge. Participants in this event are also given access to play in the Electric Football League Invitational for no additional cost on a space-available basis. Participants in this event are given a lanyard and name tag for identification. Includes lunch on Saturday.
Download the rules here:
TOC Rules
Equipment Requirements:
Equipment pdf